The longest pedestrian suspension bridge in the world in the Lower Morava
June 18, 2022, 3 p.m. - June 18, 2022, 7:30 p.m.
So my friends and I visited the longest pedestrian suspension bridge in the world. The feeling of visiting the place was just great. Of course, it was a little scary, after all, 721 meters of metal structures at a height of 95 meters from the ground. And also the realization that this bridge was designed on software that I am also developing, and I know how the code in this program is written, added to the thrill. So I felt like an ancient architect who himself tests the bridge he had a hand in building.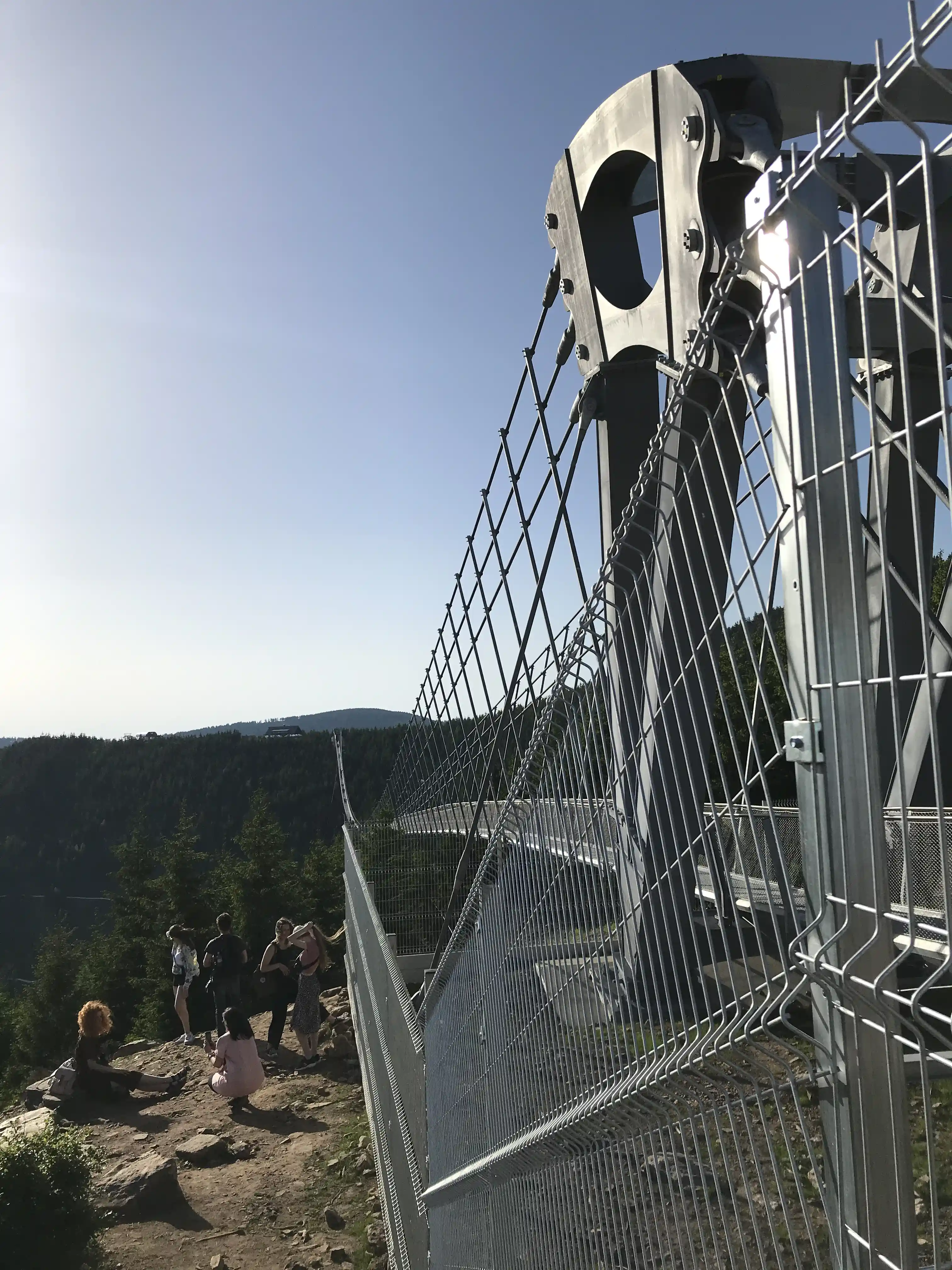 In the end, the experience was worth the trip, especially when you visit such places with a group of friends. Also, be prepared to face your little fears of heights. After all, despite the fact that the bridge is securely stretched, it still shakes a little in the wind and vibrates.
Sad fact
And those who are very afraid of heights should weigh the pros and cons of visiting this place. After all, you will face your fears directly. And speaking of dangers, I can't help but note the sad event that happened a couple of days before our trip. After all, the day before [a 57-year-old man died after crossing this suspension bridge] -mire). According to the doctors, the place had several factors: heat (it was really hot this week, it was even forbidden to make open fires due to the threat of fires), physical exertion due to walking in the mountains (we really had to walk uphill from the parking several kilometers), as well as an adrenaline rush (this is true). Therefore, think about your health if you plan to visit such places.
Travel notes
And now I will note some useful details of the visit.
The cost of visiting varies from 350 to 465 kroons. I don't know by what parameters and how the price changes, we personally didn't think about it. But be prepared to shell out up to 500 crowns for visits.
It is better to visit the bridge around 17:30 and later. By this time there is no longer a giant queue. When we reached the bridge at 15:00, we saw a huge queue to the bridge, in which we would have stood for at least one hour. But we acted smarter and went to dinner, as a result, by 17:00 there was no queue at all, and we were full and satisfied and visited the bridge without extra people on it.
Also next to the bridge is the longest (4 kilometers!) bobsleigh track in the Czech Republic, but it closes at 19 pm, so I recommend planning a schedule, we personally did not have time. Also, its cost is around 250 kroons.
Lunch will cost approximately 250 CZK.
You can get from the parking lot either on foot or by funicular, the cost of one lift is also around 200 kroons.
So an ideal visit in the form of taking the funicular up, having lunch, walking across the bridge and going down the bobsleigh track with a breeze would be a little over 1,000 crowns.
Welcome to the world's longest suspension footbridge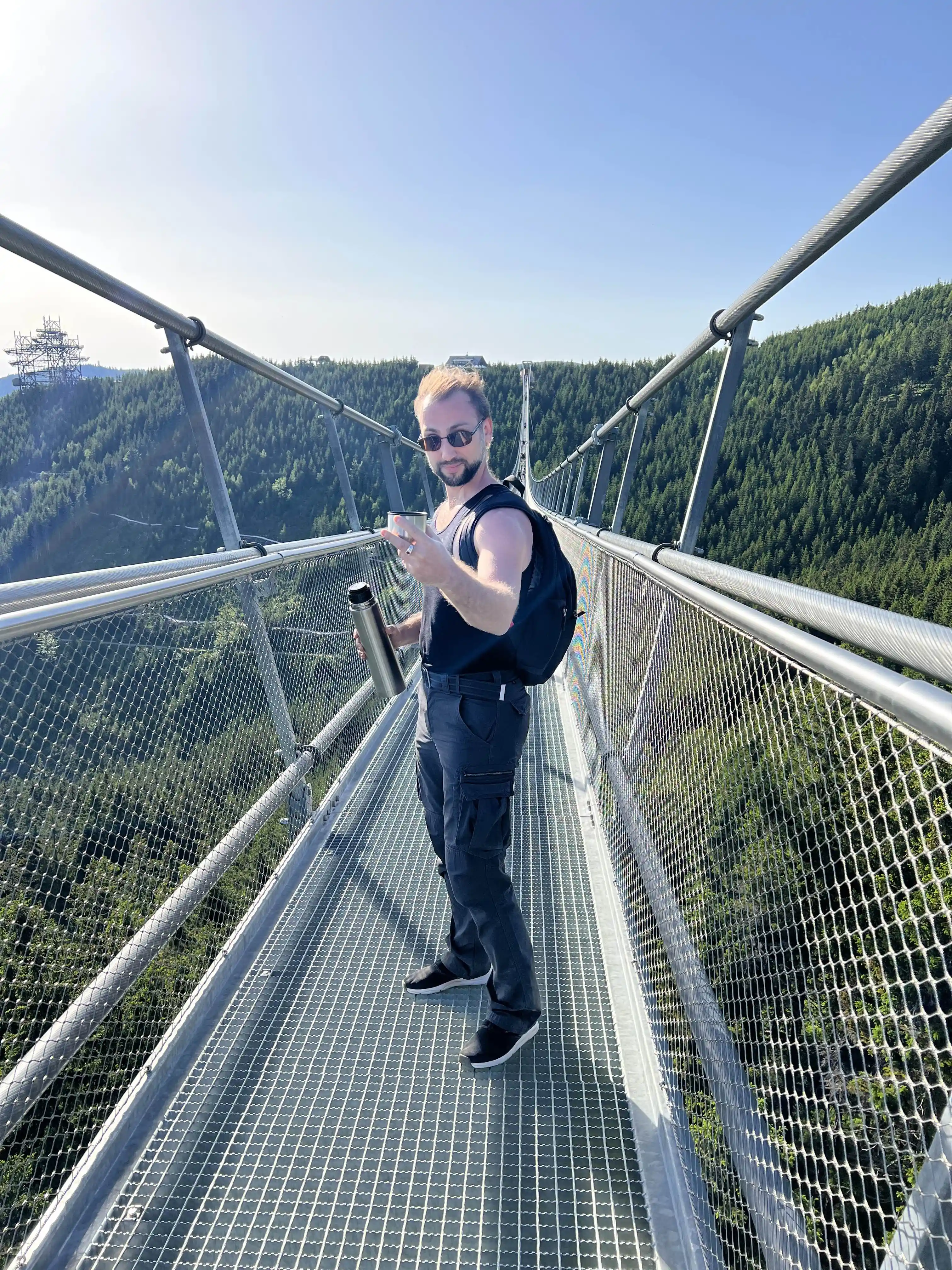 But if you still decide to walk across this bridge, then you will get a great experience, as well as a good dose of adrenaline, especially if you are unaccustomed to this kind of entertainment.
So, "Welcome!"
Gallery